UAPA was able to speak with Lt. Governor Cox about the Utah economy and the importance of infrastructure within our state, not just as a "recovery" strategy but also as a means to manage our state's growth.
With COVID-19 raging, all the states have their challenges and certainly their strategies. But other things also require attention and planning, for many reasons, such as roads and infrastructure. Do you plan to work on those two areas?
Absolutely! Let me say this first, though. Recovery needs to be our first and foremost objective. We have to get that right before we can do anything else, and the good news is that there is a recovery plan. It was prepared by the governor, the legislature and dozens of community leaders. The recovery plan identifies the steps Utah needs to take to return to economic strength. The state's economic recovery is already underway.
Undoubtedly, we still have challenges ahead. The next several months will not be easy. There will be tough choices with difficult trade-offs, and we will have the occasional setback. We need to be vigilant and smart. But when all is said and done, I have zero doubt that we will emerge from this in a good place.
It's well known that you have a very long commute. If anyone is an expert on commuting via our state's roads, it would be you. With that in mind, how is the commute?
Brutal. It's about four hours a day, round trip. When I started working as lieutenant governor six-and-a-half years ago, my wife was very firm — we're not moving. I commute regularly because of that decision, and I can tell you this: I think we have really good roads.
It's always been a priority here in Utah for the legislature to invest in our roads. UDOT does a great job. For us, it's imperative to keep Utah's roads in good condition. What it boils down to is this: good roads are the most economical roads. If you put money into the roads as needed, the ROI is of course much more substantial, and in Utah, ROI has been and will continue to be the focus. A lot of other states aren't as "road-minded," if you will.
Once a road deteriorates, it's hard to maintain. We want to invest in our roads. We pour over 4 million tons of asphalt per year in Utah. I am proud of our roads, and that comes from someone who spends a lot of time on them!
When it comes to investing in our roads, what do you see as a future guide or strategy?
The best decisions are made at the local level, and I don't see that changing. However, we are investing in infrastructure, and there's a little formula that I use all the time. It's proven to be correct every single time. And that is: where infrastructure precedes growth and density, the quality of life stays high. That means it's really important that we focus that density around the places where we do have the infrastructure, particularly mass transit.
By the way, we've had the best economy in the nation over the past 10 years, and we have the second-best transportation system in the country. Every four years, the American Society of Civil Engineers' Report Card for America's Infrastructure is released. It depicts the condition and performance of American infrastructure in the familiar form of a school report card — assigning letter grades based on the physical condition and needed investments for improvement. The most recent report card gave an average national score of D for roads and infrastructure. Utah received a B+. That's not quite an A, and getting an A is a definite draw for us, but we feel very good about our score.
We have many great partners in our quest for the A. Our partners include UDOT and, of course, the members of UAPA.
What do you see as the future of roads, such as "smart roads"?
I definitely think smarter roads, if you will, are the next frontier. UDOT is already exploring better ways to use our existing roads to better manage traffic and allow us to build to maximum capacity. We don't need maximum capacity all the time. The only time we reach it is for a few hours a day during rush-hour traffic. But anyone stuck in peak traffic wants the state to do what it can to keep traffic flowing smoothly as much as possible. Daily traffic jams affect the quality of life.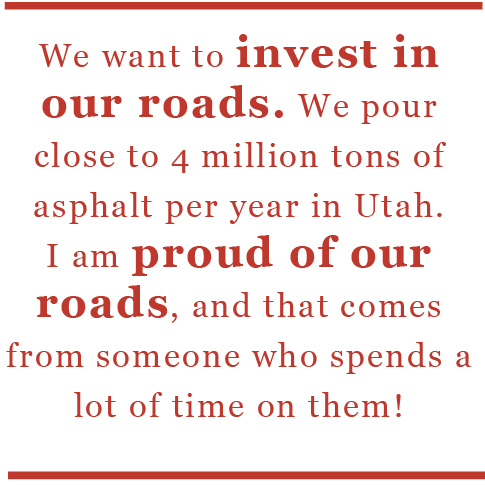 What about planning for growth in rural Utah?
I was born in Fairview. Fairview is a town of about 1,200 people in Sanpete County, which is in the geographical center of the state. Sanpete county is one of the bigger counties south of Utah county. I was raised on the farm that my great-great-great-grandfather settled about 160 years ago. Two brothers were sent down to settle Manti. One brother stayed there, but Manti got too big for the other brother, so he moved his family to Fairview. We've been there ever since.

It was fascinating growing up in a very small town. Depending on what's going on, it's either great or it's awful because you know everyone. My dad refers to it as Mayberry, from the Andy Griffith show. Everything was just kind of perfect.

Then something happened. The state and the nation decided to expand the freeway system and connect all of our states together. Highway 89 ran right through the heart of Fairview and Sanpete county all the way down. There was a lot of discussion about where the new freeway would go. The freeway ended up not following 89 after southern Utah county. Highway 6 and 89 continued down, but I-15 parted paths and went to Juab County, to Nephi and eventually Las Vegas.

Have you seen Cars? Cars is the story of Fairview because time passed it by, just like the town in the movie. When I saw Cars with my children, they said, "Dad, why are you crying?"

Every town has the same problems that big cities have. People are litigious and sewers back up, but you don't have the human capital to solve those problems. My wife calls it the STP: the same 10 people do everything, and getting other people involved is hard to do. Fairview is one of the few cities of its size that has ever even engaged in a planning effort.

We have an increasing divide in our country, and we need to fix it. The red votes all come from rural places, and the blue votes come from big cities, although there are exceptions to that.
To fix the divide, you need to get proximate. The people who work in the legislature can't make good policies if they don't have the knowledge to make informed decisions.

Economic development and access to telecommuting are other tools that can fix the divide. Small towns can be a really great place to live, but there have to be good jobs available. Without jobs, people either get stuck in poverty or they leave. But because the towns are so small, you do need to have careful planning so you don't put too much strain on the existing infrastructure.

We need really smart people to help us come up with the right solutions, and we need them to understand rural Utah as well as urban Utah.
By The Utah Asphalt Pavement Association