Welcome to Issue #3 of On the Road for 2020! What a year and what a great time to be involved in the asphalt pavement design, construction, and maintenance industry! Somehow, despite this wonderfully crazy year we have all been a part of, we have made it to August. Which means that even though as busy as everything seems right now, cooler months and shortened days are certainly ahead and just right around the proverbial corner; and while 2020 will certainly be a year to remember, I think I can safely say that many of us are looking forward to a time when things may get back to being a little more "normal" in the near future.
I am really proud of this issue of On the Road. Our friends at the newsLINK Group, LLC have done a great job of helping UAPA put together some of the best interviews and information we have had to date. It was our pleasure to host Lt. Governor Spencer Cox at the 2020 Utah Asphalt Conference this year and it's exciting and informative to gain better insights into his thoughts on infrastructure in the pages of this issue. Similarly, Natalie Gouchnour's expertise on Utah's economy both now and into the future is both reassuring and thought-provoking as we all reconcile the ongoing ramifications of COVID-19 and its continued spread. My favorite piece, however, comes from Daniel Burrus's article in helping us to all understand that even though events like COVID-19 may rage, we can all exercise and plan to have more control in our lives and in our businesses. I particularly, enjoyed his advice on using COVID-19 as a positive disruptor. He says, "The way I see it, COVID-19 isn't our biggest problem, it's what we are doing, or not doing about it." It's this kind of information that causes me to think that this issue of On the Road will help give you some good insights and hopefully cause you to act for the better.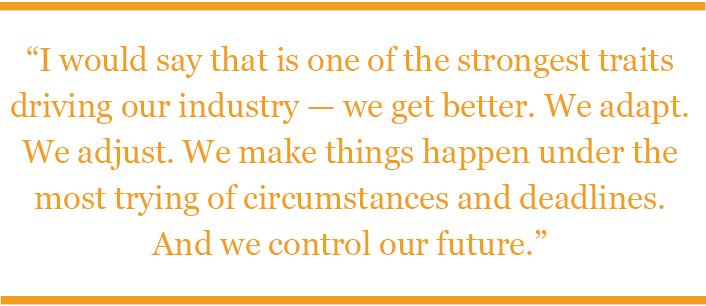 In fact, in my eight years as the Executive Director of the Utah Asphalt Pavement Association, I would say that is one of the strongest traits driving our industry — we get better. We adapt. We adjust. We make things happen under the most trying of circumstances and deadlines. And we control our future. It's exciting to see member organizations of UAPA take control of their collective futures through the work of the association. It's humbling to know the trust you put in us to do just that, and it's an honor to continue to improve, innovate, and be a positive force in our industry together, as one, through UAPA.
We wrap up this issue of On the Road with a great project spotlight happening at the Cedar City Regional Airport and a case study as to the speed of construction when it comes to asphalt pavements. The project in Cedar City is nothing short of impressive, and I hope to see it nominated for an award at our 2021 Utah Asphalt Conference, coming up next February.
Until then, or until the next time we see you at the UAPA Golf Classic, the UAPA Fall Conference, or on the computer, participating on one of our UAPA Brunch & Learns, know that we wish you continued success as we head into the Fall and the end of yet another season of amazing work happening all over the state of Utah. Stay healthy and stay safe!